004 Christopher Hipgrave 'Day'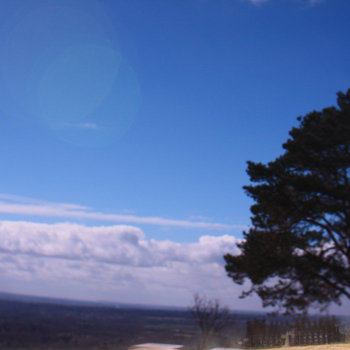 FIRST EDITION:

Cat.No: home n004
Release date: June 26th, 2009
Edition number: 500 SOLD OUT
(Second edition due November 2013)
Release description:
Kurt Vonnegut, Jr. once spoke of nature as needing to be held close to humanity, to be a friend, instead of an enemy. 'Day', by Christopher Hipgrave, who is a composer, sound designer, and software programmer from England, presents the harmony of the humanity and closeness to nature, while still allowing the time of the day to pass hardly without notice, but with change and closeness.
Spanning 7 tracks, and 44 minutes, the simply descriptive titles of 'Day' transcend a controlled majesty over the evolving everyday. The times of the day are present, relative to structures of the surrounding world. All found in place: Flowers' petals opening through an extended time-lapse, the trickle of water drops from rubber plants to the ground, the bending of grass blades shifting like razors, with only the temporal echo of the evening warming the last remaining seconds are present.
Near the end of the record, the music withdraws into a secluded world that could easily be the crackling of raindrops on a windowsill, heard through the window of a house, in any city, on any rainy day. The world is muted, strong, and pensive. The last minutes breathe with a somber intensity, pumping but gushing through missive pathways, always on target, and withering all the while.
Simply relating sounds to nature is a little compliment, but isn't everything, when it is first beginning? If everyday could be as descriptive, and have as many tender moments as this cherished debut contains, each day would be memorable, waiting for the next.
You can listen to, share, and buy 'Day' here:
Here's a sample of 'Day' which is free to download:
PRESS
Thierry Massard
Belle économie d'effet, quintessence d'impressions évanescentes, une telle sobriété est absolument exemplaire – ascèse et élégance diurne, Christopher Hipgrave est un artiste non dénué de grâce, et "day" son évidente et première personnification.
Boomkat (an album of the week)
Latest transmission from the wonderful Home Normal imprint, this time featuring the work of the much tipped Christopher Hipgrave, a composer, sound designer and software programmer who according to his bio "is predominantly focused on the field of algorithmic composition, sonification, artificial life and interactive music systems". Such an earnest account of Hipgrave's musical activities is entirely in-keeping with the tone of this very fine record, 'Day' is a gorgeously assembled album of colourful, melodic microsound that could have been plucked straight off the 12K catalogue. 'Slow Sun' brings to mind the Oval-esque hum of Sogar's Basal album, whilst the tiny fractures and tuneful flotations of 'Motionless' and 'Grass' are just achingly lovely. Much of Hipgrave's music occupies the higher echelons of the frequency range, fashioning complex granular nano-rhythms from the rainy downpour of static that ensconces his every sonic gesture. A ravishing collection of digital compositions, this label is fast acquiring buy-on-sight status. Highly recommended!
Smallfish Records
As debut releases go this, I feel it must be pointed out, is something of an absolute cracker. Obviously we're looking at a Home Normal release, which is a great start, but when you put this CD on you'll understand exactly why I've been so very excited about it. Hipgrave's sound is one of gentle manipulation, subtle, shimmering melody, and a lovely indistinct broken-ness, if you know what I mean. The layers of texture and tone are the main focal point and they work like a dream, but in the background you'll hear hisses, pops and crackles that all seem to emanate from some strange electronic machine. It gives it such a warmth and humanity and perfectly balances against the structures of the music. Each piece is formed using a bare minimum of sounds and sources and each of them is then explored in depth with the tracks allowed to run until their natural conclusions. It's a beautiful sound as well and really has a soothing, lusciously low-key feeling that appeals to me on a huge number of levels with its melodic chord style and light & airy hypnotic feel. I don't like to compare too much but I can say that if you're a fan of the more melodic 12k release, such as Shuttle358 for example, that you're going to be thrilled with this. All I can say is bravo to both artist and label and I know for sure that I'll be eagerly anticipating this talented artist's next release. Quite superb.
Norman Records
This week I starts with a superfly CD by Christopher Hipgrave (no relation to Dan I hope) on the rather smashing Home Normal label. I like the packaging on this label. Nice shiny cardboard little things with tasty imagery and a nicely designed slot to shove your musical 5 incher into (err… CD). Day is the daybut (gerrit….) release by Mr Hipgrave. He has forthcoming wares on Under The Spire but Home Normal appear to have to got to him first and can lay their claim to finding this up and coming talent! It's a 7 track album which is a mix of clicks, drones, ambience and some micro electronics all tastefully crafted together into one delicious thing. It's very enjoyable indeed. In fact you may as well remove your ears and place them on a velvet cushion for the evening. It's that nice. It comes into it's own through headphones as it's doesn't do much over the system in the office here. Through headphones you can pick up all the intricacies and little nuances which are missed due to the mass of space between said ears and headphones. Fans of 12K, Make Mine Music etc. will like this. Well nice!
P*Dis
注目度がうなぎ上りのレーベル home normal から、UKの作曲家/サウンド・デザイナー/ソフトウェア・プログラマーである christopher hipgrave のデビュー・アルバム。シンプルに『day』と名付けられたタイトルがすべてを描写しているように、夜明けから夕暮れまでの普段は意識することのない自然 の変化と、それに伴う日常の機微をマッピングしたかのような繊細で美しい作品です。celer から stars of the lidファンまでをうならせる見事なデビュー。見ようによっては世界はこんなにも美しいものかと感じさせる、アンビエントによる7曲44分間の日常のド キュメンタリーです。
textura
After bolting from the gate with albums by Library Tapes and Celer and now outings by Christopher Hipgrave and The Boats, Home Normal has established itself in record time as a label of distinction, and the latest pair of releases only enhances that reputation. The relatively unknown Hipgrave impresses with forty-four minutes of multi-hued microsound material that transcribes the transitions from early morning to day's end, while The Boats' release finds the group moving with a great deal more wind in its sails than usual.
It's easy to get swept up by Christopher Hipgrave's Day when the titles of its seven pieces reference the stages of a typical day and some of the perceptual and experiential details that might go along with it. A composer, sound designer, and software programmer from England, Hipgrave's obviously got the requisite technical skills to shape digital materials into engrossing and detail-packed set-pieces. Filled with glassy tones that glisten and sparkle, a representative track such as "Slow Sun" is bucolic and soothing, while tones and textures in other tracks cohere into shimmering masses punctuated by stuttering pops and crackles. In "Early Morning," the multitudinous murmur of insects arises with a new day's attendant swell of natural ambiance. Rippling streams of static textures, soft percussive glitches, and organ-like tones in "Motionless" blend into a gentle, dream-like flow that proves transfixing; a rather more industrial quality characterizes "Drift" by comparison, when emissions exhale over a meandering array of carousel tones. Suggestive of hikers returning home after a long day's exploration, a soft gallop animates the hyperactive pop and sparkle of "Dusk," after which "Traveling Home" brings the album to a becalmed yet still resplendent close. Day hardly teems with tumult and violence but instead radiates calm and peacefulness—Hipgrave's day, in short, is a lovely one suffused with tranquility, harmony, and lightness of spirit.
cyclic defrost
If you were to look for a method to distinguish one form from another in electronic music, it would be similar to a Turing test. "Does the form of expression exhibit an intelligence that can prove sentience, and, by what means can one discern it to be such?" Christopher Hipgrave demonstrates a positive sonic testscore in that it is clear from listening that there is design in the sound, he is not merely a software jockey but someone who programs to create sound. Not that that he is alone in this area but as it turns out, it creates as much a difference to the reception of music as it does to furniture design.
A software designer who created in this area would be able to give you an evaluation of the approaches to algorithmic composition that Hipgrave utalises in this album. Perhaps they would talk to you about granular synthesis and the state of microsound development. A sound designer would be able to tell you of the sonic immersive qualities and techniques that make this album an advanced and alive contemporary form. However being not of these domains but recognising the form of the areas I know that this has all the qualities of intelligent humanity that make the experience of music great.
Listening to Day is an act similar to the act of the experience of poetry, it reveals a world of brittle delicacy that the presence of symbols as descriptions are almost enough to destroy that of which is alluded. I can't quite place why this is or convey it beyond the notion that Hipgrave takes ambient microsound to this space where the rational encapsulation of technique approaches ineffable qualities. As such there seems to be little more to say about the album, it is a bright shimmering rare gem, a pleasure to listen to and a reminder of the great beauty to be created, shared and appreciated in this world.
Soundscaping
What a fenomenal debut from this English sound artist and composer. We have previously at Soundscaping expressed our impression of Home Normal and now we find its fourth released musician, Christopher Hipgrave, also out with a lovely follow-up to his debut album, "Day", on the new low-key label, Under The Spire, with the subtle (sic) "Subtleties".
Hipgrave first impressed us with his study of the day's movement. Sprinkled with tiny observations of the miniscule details in a day's passing, Hipgrave lays out a mixture of glitchy electronics and minimal soundscapes that are reminiscent of Ezekiel Honig's early, minimal works. The pieces seem to focus on the slow-moving aspects of life; the gradual waking of life in early morning hours and the coming of day. Next there is a study of the slowly rising sun, on a track that imaginatively sets you in a stop-motion kind of mood, believing the sun rises in slow, jagged movements, changing from view of the full sun, to simply the details of the rising sun reflected in its slow movement across a wall or field.
For his venture on "Under The Spire", Hipgrave brings us a shimmering tapestry of colourful sounds, very reminiscent of Bailleau's "Air Resort" in its accomplishment of sounding both majestic and spacious in how the soundscapes just expand into the room and marvels the listener, and on the other hand it sounds organic and warm, the long-form drones of circa 10 minute tracks based around organ-based instruments and shrill tones of glitchy electronica and high-frequency bells and ringing sounds. The two pieces stand apart quite alot and for quite co-inciding releases, one is struck by the thought Hipgrave may have been at this game for a little while albeit honing his productions in secret before stepping forward with a refined result. That is of course only a credit to his musicianship and underlines the strength and variety this pair of debut (so to speak) albums are capable of.
Definitely worth checking out, that is if you can come across the now out-of-print releases (though you might find a copy or so still of "Day" over at Home Normal).